To start off the new year, we want to try something new. Something exciting. Something we've never done before. Granted, we're already 10 days into the New Year... but we took that time to plan. To think, discuss, and grow. We're looking to expand, but in order to do that we need to create more of a buzz for ourselves. Marketing in a day where billboards are ignored, advertizements are avoided, and adblock exists, is hard, to say the least. What we have left is social media. Social media is free, yes, but it's much harder to get started. How do we engage people? How do we get them to talk about us to others, to share our page and posts? We can make our accounts, post our products, build web pages, but is anyone listening? Is anyone TRULY listening, listening enough not only to read and look at what we are doing, but to talk about it and share with others so our market expands and our clientele grows? The old way of advertising worked because everyone could see it. New people would discover companies this way. In this new age of social media, you are noticed by those who follow you. You are only discovered by people if those who already follow you choose to share with their friends and family. So here we are. We are in your hands. We promise to keep posting, to keep you engaged, to come up with new ideas and products, and to make an effort to keep all of you informed and involved with what we are up to.... but can you help us in return by sharing what we do with those you love? Will you allow us to join your family, as we have welcomed you into ours?


I know this is turning into a long post. Much longer than I intended, but I will wrap things up now. Basically, to break down my intensions for this page, here will be our form of a "news bulletin". We will post our plans, new products, and even have polls here so we can get your opinion on what kind of products to supply. Feel free to comment. Give us your thoughts on what we are doing and what you wish to see. We are all family here.
Powered by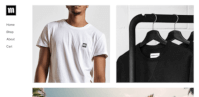 Create your own unique website with customizable templates.